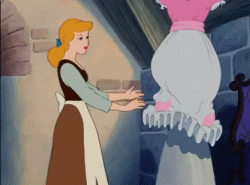 Back in October or November, I was working the Winnie the Pooh ride, at Greeter. A family of 4 came up, from England! The mom and dad owned a pub, and had 3 kids, the son was the oldest, the daughter was 5-ish, and there was a baby daughter. English families were one of my favorite people to talk to, because they were always unfailingly polite to me. Also, the accent is amazing to listen to.
They wanted to ride Pooh, but the daughter didn't want to. As trained, I got down on her level and asked "Well, Princess, why don't you want to?"
"It's scary!"
There is really no reasoning with a scared child, especially one who has just come from the Bibbidi Bobbidi Boutique, dressed as Cinderella-complete with the princess bun and tiara. I was trying my best to reason with little Cinderella, telling her that her friend Belle had just ridden, that Huffalumps and Woozles weren't scary at all, you got to bounce with Tigger, you got to ride in a honey pot...all the usual stuff.
She wasn't having any of it. Her dad took her through the queue while the mom rode with the son, but she didn't want to go still. Her brother came out and raved about it, but still nothing. So I promised that if she rode, I would give her a princess sticker.
She was adorable and despite being scared, was so polite.
Right then, rotation came through. I was sent to Grouper, and said goodbye to little Cinderella and her family. However, about 20 minutes later, guess who came through the line?
Cinderella and her family! Her parents gave me gigantic smiles and thanked me profusely. I gave her the Princes sticker, as promised, and sent them on the ride. It takes about 3 minutes and 40 seconds to get through the ride. I kept grouping, when I felt someone tapping me on the shoulder. I turned, and dad was holding little Cinderella. She absolutely beamed at me and said "Anna, I had a lovely time! Thank you so much! Can I give you a hug?"
Um.
DUH.
She gave me the sweetest hug and a kiss on the cheek, and then left to ride Dumbo.
Magical moment!