Recently I've noticed people doing a 30 Day Disney Challenge so I thought I'd join the crowd. I don't think I'd remember to do it every day so instead I'm going to do it all at once.
Here we go!
Day #1- Your favorite character
: Ever? Probably Tigger.
Day #2 -Your favorite princess
: Belle, hands down
Day #3- Your favorite heroine
: Esmeralda, from
Hunchback of Notre Dame
.
Day #4- Your favorite prince
: Tie between Eric and Aladdin.
Day #5- Your favorite hero
:

 Prince Philip, from Sleeping Beauty. He slays a dragon, I don't think you can get more heroic than that.
Day #6- Your favorite animal
: Lions. Simba, Mufasa, Scar, Nala...they're so ferociously impressive.
Day #7- Your favorite sidekick
: Dory, from
Finding Nemo
Day #8- Your favorite villain
: Jafar. He's badass and turns into a snake. Also, he gets his comeuppance in the end.
Day #9- Your favorite original character (Mickey, Minnie, Donald, Goofy, etc.)
: Goofy, because he was my favorite to meet at the parks.
Day #10- Your favorite song: According to my itunes, it's a tie between 'Can I have this dance' from
HSM3
and 'God Help the Outcasts' from
Hunchback
. Without itunes, I'd say either 'Strangers like me' from
Tarzan,
'I'll make a man out of you' from
Mulan,
or 'Feed the Birds' from
Mary Poppins
.
Day #11- Your favorite love song: Oh man. 'Once Upon a Dream' from
Sleeping Beauty
. 'A Whole New World' from
Aladdin
. 'Kiss the Girl' from
Little Mermaid
. 'Beauty and the Beast'. 'Bella Notte' from
Lady and the Tramp
. 'Can you feel the love tonight' from
The Lion King
. 'You'll be in my heart' from
Tarzan
.
Day #12- Your favorite villain song: 'Hellfire', from
Hunchback of Notre Dame
. The animation, the lyrics...it's fantastic. Or 'Poor Unfortunate Souls' from
Little Mermaid
.
Day #13- Your least favorite song
: 'Someday my Prince will come' from
Snow White
. I hate the message of just waiting for a guy to come.
Day #14- Your favorite kiss
: That's just unfair. All of them.
Day #15- The first movie you saw
: Either
Aladdin
or
Mary Poppins
.
Day #16- Your favorite classic 
Classic Cartoon or Feature: Um. The one where Minnie bakes Mickey a cake? The one that played in Toontown all the time?
Day #17- Your least favorite classic
:
Pinocchio
. I tried to watch it again before I went to Disney and fell asleep, like always.
Day #18- Your favorite Pixar film:
Up
! "Adventure is out there!"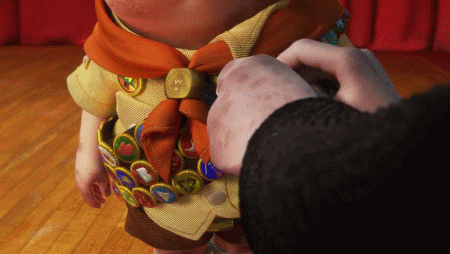 Day #19- Your least favorite Pixar film
:
Cars
or
The Incredibles
.
Day #20- Favorite sequel
:
The Lion King 2: Simba's Pride
, or
Beauty and the Beast: Enchanted Christmas
.
Day #21- An overrated movie
:
Toy Story 2
, purely because of that crap villain, Stinky Pete.
Day #22- An underrated movie:
Sword in the Stone
. Merlin is bitchin'. I re-watched it over the summer before I went to Disney. It's absurdly delightful. Also,
The Great Mouse Detective
!
Day #23- A movie that makes you laugh
:
Hercules
or
Princess and the Frog
.
Day #24- A movie that makes you cry
:
Up
! Several times throughout the movie.
Day #25- Your favorite scene from your favorite movie
: Belle and the Beast's dance.
GIFSoup
Day #26- Saddest death
: Bambi's mother.
Day #27- Your favorite quote: "A dream is a wish your heart makes."
Day #28- Your favorite theme park
: Can I mash them all together? Magic Kingdom that has everything, plus Festival of the Lion King and Expedition Everest from Animal Kingdom, the World Showcase from Epcot, and Toy Story Mania from Hollywood Studios? Fantastic.
Day #29- Your favorite theme attraction: Tie between Expedition Everest, Jungle Cruise, and Philharmagic.
Day #30- Your favorite theme park show: Festival of the Lion King, of course.